Safe Sitter class instills confidence and skills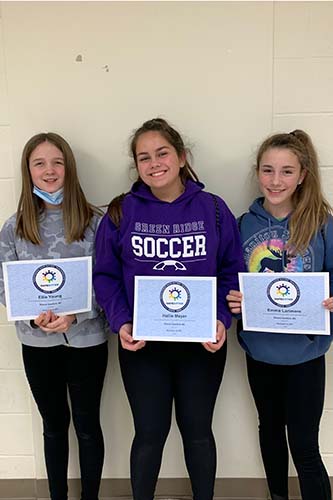 Emma Larimore, 12, is a certified Safe Sitter after taking Bothwell Regional Health Center's childcare education class last November.
Emma, a sixth grader at Green Ridge Middle School, decided to take the class after her mom, Missi, saw information about the class in the newspaper.
"Emma has two younger cousins that she watches from time to time, and she was the perfect age," she said. "I wanted her to be more confident in herself, and I thought the course would help."
Bothwell's Safe Sitter class is for students in grades 6 through 8 to be safe when they're home alone, watching younger siblings or babysitting. The national nonprofit program started in 1980 after the accidental death of a nurse's young child while in the care of an adult babysitter.
"This course helps ensure children are under safe supervision when parents aren't at home," said Kim Perez, Bothwell's Clinical Education director. "Safe Sitter teaches practical skills and hands-on exercises in lifesaving techniques so students have the knowledge and confidence to care for children and act in an emergency if needed."
Missi asked a few of Emma's friends' moms if they thought the girls would like to take the class as well, and they said yes.
"I liked being able to take the class with my friends," Emma said. "That helped me be less nervous."
Students who take the class learn indoor, outdoor, online and personal safety skills; child development and childcare routines, including diapering practice; behavior management, injury prevention and management, choking rescue practices and CPR; as well as the business of babysitting.
Emma said while she hasn't been able to use any of the skills yet, mainly because of Covid, she's glad she took the class.
"I learned how to figure how much to charge for babysitting and ways to handle stressful situations," she said. "I liked that I learned CPR, too, I just hope I don't have to use it."
Missi highly recommends the programs to other parents and their children.
"I totally recommend the program to any child who is interested in babysitting or has siblings." she said. "The tools Emma learned can help in either situation."
Bothwell's next Safe Sitter course is May 7 from 8 a.m. to 2:30 p.m., and the fee is $35. The class meets in the Bothwell Education Center at 601 E. 14th Street and a second class is offered July 23. For more information or to register, view the Safe Sitter page, contact the Bothwell Education Center at classes@brhc.org or call 660.827.9516.
Photo cutline: Emma Larimore and her friends completed Bothwell Regional Health Center's Safe Sitter course last fall. Participants receive a certificate upon finishing the class. From left to right, Ellie Young, Hallie Meyer, and Larimore.