Shapley receives DAISY Award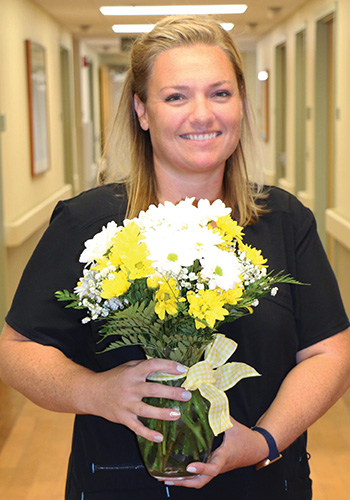 Bothwell Regional Health Center recently presented its latest Daisy Award for Extraordinary Nurses to Leslie Shapley.
The Daisy Award is for patients and their families to nominate nurses who give outstanding, compassionate and skillful care. Shapley, a registered nurse in the hospital's 2 North unit, was nominated by the wife of a patient.
"My husband and I visited 2 North weekly and sometimes two times a week for six weeks," the woman said. "Leslie was there to greet us and change the dressing on his PICC line. Some of the times were quick and quiet and other times there was a lot of busyness. Everyone there was very helpful, but Leslie stood out to us."
Shapley has worked in 2 North since 2019. She and other staff insert intravenous lines in hospital patients who need intravenous drugs and care for others who require out-patient procedures or short- or long-term drug administration for treatment of their illnesses. She began her career at Bothwell in 2010 after earning her nursing degree at State Fair Community College.
Shapley said she remembered the patient and his wife during their visits and enjoyed their friendliness.
"I enjoyed getting to know both of them, but most of all, I remember the light-hearted banter between myself and the patient," she said. "It makes my heart full that not only did they take the time to make us a plate of cinnamon rolls and write very thoughtful thank you cards but also took the time and effort to nominate me for this award."
The nominator said she and her husband appreciated Shapley's positive and gentle demeanor and admired her ability to multitask during busy times.
"Some days the unit was really busy, especially during times staff was answering questions about Covid and infusions," she said. "As we listened to Leslie on the phone with other patients, it was readily apparent that patience is a genuine part of her. We felt it was the same when we needed help. Her empathy was appreciated, and she gave us outstanding care."
Laura Weisenburger, Bothwell Nursing educator and recruiter, presented Shapley with a certificate commending her for being an "Extraordinary Nurse." She also received a box of cinnamon rolls, a DAISY Award pin and a sculpture called "A Healer's Touch," hand-carved by artists of the Shona Tribe in Africa. A DAISY Award banner recognizing her will hang in the unit and Shapley's name will appear on the DAISY Foundation website.
"Leslie is a stellar nurse and so deserving of this award," Weisenburger said. "We absolutely love getting nominations from patients or their families. Health care can be a really stressful occupation, and these notes of appreciation validate our work and allow us the opportunity to recognize our staff in a way that keeps all of our 'buckets full.'"
Shapley said she appreciated knowing she made an impression on someone and was quick to recognize she's part of a larger team.
"I enjoy meeting people and hearing their stories and educating and helping them in whatever capacity I can," she said. "Whether it was our conversations, teaching, care or skills, this simple act the patient and his wife did reiterates to me why I love what I do. While this award singles me out, the reality is there is a chain of people who also deserve recognition. I appreciate everyone I work with who shows up, puts in the effort and goes above the standard of care."
The DAISY Award for Extraordinary Nurses was started in 1999 in Glen Ellen, California, by members of the family of Patrick Barnes, who died at the age of 33 of complications from an autoimmune disease. The care his nurses provided was the inspiration for the DAISY (Diseases Attacking the Immune System) Award.
An international award, the DAISY is awarded in more than 2,800 health care facilities in all 50 states and 17 countries. Bothwell Regional Health Center began recognizing its nurses with the DAISY Award in 2018. Jessica Wheeler, Shari Thomasson, Shasta Nardi, Courtney Rumans, Sarah Plante, Connie Roll, Ronda McMullin, Sarah Fredrickson and Sherri Egbert are previous recipients.
To learn more or to submit a nomination, visit brhc.org/daisy.