Stotts receives DAISY Award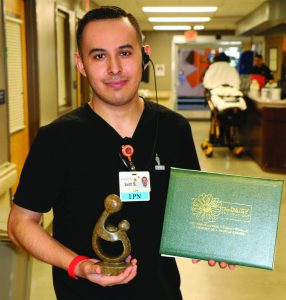 Bothwell Regional Health Center recently presented its latest DAISY Award for Extraordinary Nurses to Seth Stotts.
The DAISY Award is for patients and their families to nominate nurses who give outstanding, compassionate and skillful care. Stotts, a licensed practical nurse (LPN) in the Emergency Department, was nominated by Judy Waggoner of Cole Camp.
"Seth was my nurse when I was in the Emergency Department and was so professional while being very caring and personal," Waggoner said. "He was totally attentive to all of my needs. He kept me informed constantly of my condition, which was so appreciated by me and my husband. He is exceptional at his job."
Stotts has worked in the Emergency Department since July 2020. He started as a patient care technician and transitioned to the role of LPN in December 2020 after earning a Professional Certificate in Nursing from State Fair Community College. He is working toward a bachelor's degree in Nursing from Missouri Valley College and plans to graduate this December and wants to become a Certified Registered Nurse Anesthetist.
Stotts said he remembers Waggoner and her husband, Roy, after Waggoner visited the ED with concerns about her heart.
"Right away, I could tell she and her husband were worried that something serious was wrong," he said. "Like caring for any other patient, I went straight to work helping the physician determine a diagnosis. I made sure to keep her and her husband in the loop and was prepared to help them in any way possible."
Megan Elwood, Bothwell Nursing Education RN, presented Stotts with a certificate commending him for being an "Extraordinary Nurse." He also received a box of cinnamon rolls, a plant, a DAISY Award pin and a sculpture called "A Healer's Touch," hand-carved by artists of the Shona Tribe in Africa. A DAISY Award banner recognizing him will hang in the unit and Stotts' name will appear on the DAISY Foundation website.
"Seth is an amazing asset to our team. He is not only a great colleague but he treats all his patients with compassion and is willing to go the extra mile," Elwood said. "Being in the hospital, in any capacity, can be a terrifying experience, and we want to recognize those nurses that go above and beyond for our patients. As a nurse, one of the best feelings is knowing that you made an impact on the patient and/or their family."
Stotts said he was surprised to receive the award and is grateful to be recognized for his patient care skills.
"Individuals who receive this award are the epitome of what it means to be a nurse," he said. "I am so grateful to have been recognized and I appreciate Judy and her husband for recognizing my hard work. Sometimes the patients I care for are here on the worst day of their life, with a life-altering diagnosis. I like that I can be their calm in the chaos and provide them with the care and reassurance they need."
While it's not common for nominators to attend DAISY Award presentation ceremonies, Waggoner said she wouldn't have missed it.
"We felt it was important for him to see us," she said. "We just appreciate him so much. He even wrote a handwritten note to me and my husband after my stay, which has never happened to us before. We had never met this young man and he treated us as conscientiously as any of my children would have treated me. Bothwell is very fortunate to have him."
The DAISY Award for Extraordinary Nurses was started in 1999 in Glen Ellen, California, by members of the family of Patrick Barnes, who died at the age of 33 of complications from an autoimmune disease. The care his nurses provided was the inspiration for the DAISY (Diseases Attacking the Immune SYstem) Award.
An international award, the DAISY is awarded in more than 2,800 health care facilities in all 50 states and 17 countries. Bothwell Regional Health Center began recognizing its nurses with the DAISY Award in 2018. Jessica Wheeler, Shari Thomasson, Shasta Nardi, Courtney Rumans, Sarah Plante, Connie Roll, Ronda McMullin, Sarah Fredrickson, Sherri Egbert and Leslie Shapley are previous recipients.
To learn more or to submit a nomination, visit brhc.org/daisy.