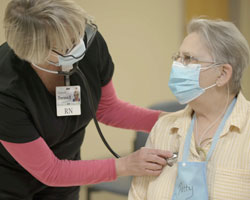 Cardiac and Pulmonary Rehabilitation Unit
The Cardiac and Pulmonology Rehabilitation Unit offers you multi-phase exercise programs that can improve heart and breathing functions and a return to a productive and active lifestyle.
Services Offered
Get back on track with heart exercise therapy

Tracking your heart's activity and functions

Physical exercise to support strong breathing
Providers At This Location
Provider information for this location is not currently available. Please contact us for assistance.
Location Details
Cardiac and Pulmonology Rehabilitation Unit
601 E. 14th St.
Sedalia , MO 65301
Located on the east side of the ground floor of Bothwell hospital
Hours:
Monday:

6:00 am - 4:00 pm

Tuesday:

6:00 am - 4:00 pm

Wednesday:

6:00 am - 4:00 pm

Thursday:

6:00 am - 4:00 pm

Friday:

6:00 am - 4:00 pm

Saturday:

Closed

Sunday:

Closed