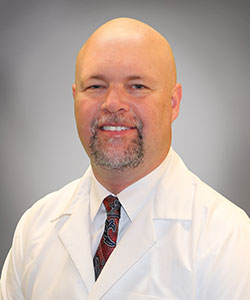 Education and Experience
Residency
General Surgery - Wilford Hall Medical Center
Medical & Graduate School
DO - Nova Southeastern University College of Osteopathic Medicine
Services Offered
Have a serious injury or illness? We're ready.
Cares for Patients At
Sedalia
Additional Provider Information
Research
Orientation classification of the supraclavicular brachial plexus around the subclavian artery utilizing ultrasound. I was awarded a travel scholarship by the American Society of Regional Anesthesia and Pain Medicine (ASRA) to present this research at the national conference April 2009.
Minimally invasive abdominal aortic aneurysm surgery via stent-graft placement and postprocedure follow-up necessitating endoleak repair: Current approaches to Type II endoleaks. Lecture and poster presentations were given at the following conferences: International Symposium on Endovascular Therapy (19 Jan. 2005); Radiology Scientific Meeting (31 Mar 05); Annual AMOPS Conference (19 April 2005).