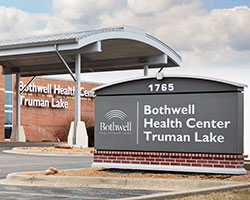 Bothwell Truman Lake Walk In Clinic
Effective, Sept. 18, walk-in hours at Truman Lake clinic in Warsaw are temporarily suspended and will resume as soon as possible.
In the meantime, hours at Walk In Winchester located at 3700 W. 10th Street in Sedalia are 7 am to 7 pm Monday through Friday and 10 am to 4 pm Saturday and hours at Walk In Off Broadway located at 700 S. Hancock in Sedalia are 8 am to 6 pm Monday through Thursday.
Our walk-in clinics are not for people with emergency needs such as heart attacks, stroke or broken bones. If you have these or similar emergency symptoms, you should go to Bothwell's Emergency Department located in the hospital at 601 E. 14th St.
If you are unsure where to go for care, learn more at Know Where to Go and find the right care at the right time.
Services Offered
Providing you many ways to access health services

Walk-in care for fast and helpful treatment
Location Details
Bothwell Truman Lake Walk In Clinic
1765 Commercial St.
Warsaw, MO 65335
Hours:
Monday:

Closed

Tuesday:

Closed

Wednesday:

Closed

Thursday:

Closed

Friday:

Closed

Saturday:

Closed

Sunday:

Closed