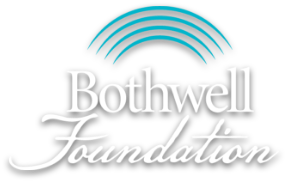 Creating a Healthy Community. Together.
K9 Security Dog Special Project
The Special Prospects and Annual Support committees both elected to raise funds to add a K9 officer to Bothwell's Security team. The German Shepherd dog will be specially trained in bomb detection and aggression control and used to address a rise in violence at the hospital.
In 2022, nearly 14,000 calls were made to the Bothwell Security team that included 274 combative patients, 30 employees assaulted and physical force used 49 times. Law enforcement was called for assistance an average of 2.5 times per month.
The benefits of having a K9 officer include:
Increased sense of safety for patients, visitors and staff
Positive PR for the hospital including education on violence in health care through community events
Having a de-escalation technique available
A reduction in use-of-force incidents
Startup costs are estimated at $52,000. After a successful campaign in late 2022 that raised this amount, the foundation will continue to accept donations for additional expenses and ongoing costs.
Will you help us protect our patients, visitors and employees? To donate to the K9 Security Project, visit brhc.org/donate or contact the Bothwell Foundation office at 660.829.7786.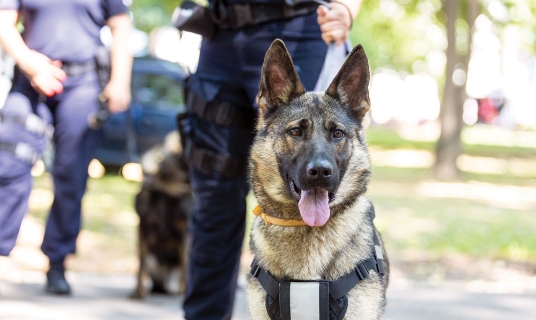 PROJECT COST $52,000
K9 and Training $10,000–15,000
MSHP K9-equipped Vehicle $30,000
K9 Health Care $2,000
Miscellaneous (food, kennel, etc.) $4,000–5,000
Funding Requests Approved in 2022
The foundation hosted its first funding awards ceremony in the Bothwell Café on May 12. Over $215,000 was awarded to various departments and clinics for 2022 that submitted applications and received funding awards.
Jim White, foundation board president, and Stafford Swearingen, Bothwell Board of Trustees chair, helped present awards as they were announced by Lauren Thiel-Payne, foundation executive director.
Cast Saw for Bothwell Orthopedics & Sports Medicine – $6,000
Pulse Oximeters for Bothwell Medical Equipment – $500
Patient Scale for Bothwell Internal Medicine Specialists/Bothwell Pulmonology Specialists – $543
Niox Vero System for Bothwell Pulmonology Specialists – $4,700
Radiation Dose Monitoring Software for Radiology Department – $19,400
iCad Software for Mammography Units for Radiation Department – $5,310
Training for Echo Sonographers – $100
Infrared Cameras for Bothwell Sleep Center – $19,520
Virtual Reality Training for Nursing Education – $33,497
Creation of a Hospice Room in the Hospital – $25,573
Two Arm Bikes, Two Recumbent Cross Trainers, Two Treadmills for Cardiac Rehab – $20,000
Discharge Photo Wall for Women's Health and Newborn Care – $3,500
HALO BassiNests for Women's Health and Newborn Care – $3,602.50
Tympanometer and Reflux Screeners and Two Scopes for Bothwell ENT – $8,140
Temporary Pacemaker for CCU – $3,676
Equipment and Patient Resources for Cancer Center – $36,000
Four Telepacks for PCU – $16,480
Automated Blood Pressure Machines for Bothwell Family Medicine Associates and Bothwell Truman Lake – $6,000
Nitrogen Canister for Bothwell Cole Camp – $672.93
EKG Machine at Bothwell Lincoln Family Medicine – $2,531.29
CT Scanner (upgrade/replacement) – $784,227
Cardiac Rehabilitation T-Shirts – $650
Patient Assistance Funds – $1,965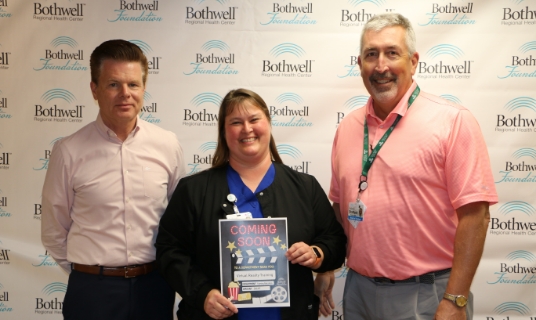 Virtual Reality Training for Nursing Education – $33,497
The Nursing Education department is pursuing virtual reality training as an addition to the current nursing training program. This training will bring state-of-the-art training to employees who in turn improve patient safety and patient outcomes. This technology allows staff to practice in simulated real-life, high-risk situations in a controlled environment so they are prepared to make split-second lifesaving decisions if the situations arise at the patient's bedside. Director of Nursing Education Kim Perez accepted the award.
Discharge Photo Wall for Women's Health and Newborn Care – $3,500
A photo discharge will be created by Women's Health and Newborn Care that will allow each family to take a photo with their new addition before leaving the facility. The photo wall will help create a keepsake opportunity for each family, as well as provide a marketing opportunity for all currently pregnant patients or those thinking about delivering. Women's Health and Newborn Care Director Hollie Dubroc accepted the award.
Baby Bassinet for Women's Health – $3,602.50
The Halo BassiNest is the only hospital bassinet designed to safely keep baby closer to mom, enabling the closeness that a mother desires most in the first moments with her child. These bassinets move and allow mothers to reach their babies easier as well as will replace the wooden base bassinets that currently do not meet infection control guidelines. Women's Health and Newborn Care Director Hollie Dubroc accepted the award.
Nurse Training Gets Virtual Boost
With more than 450 nurses working at Bothwell, members of the Clinical Education and Nursing Education departments focused their funding request on nurse learning. Kim Perez, Clinical Education director, and Laura Weisenburger, Nursing Education educator/recruiter, were approved to purchase a one-year license for a virtual reality (VR) program that simulates lifelike scenarios for training purposes.
"Our CEO Lori Wightman read an article about VR training and asked us to look into it," Weisenburger said. "We ended up going with the Oculus system, which a lot of people may be familiar with from a gaming standpoint. Kim and I have personal headsets, so we were already familiar with how the technology worked. It's the same just with scenarios made for health care."
Trainees wear a headset and hand controllers and are dropped into 360-degree active learning environments. They can look, speak and move about in the scenario and interact with avatars and equipment. They can practice giving commands and reacting to situations they might not see very often or are too dangerous to practice in real life. At the end of each scenario, trainees receive a score and if necessary, coached on how to reach proficiency level.
Ashley Schroder took just two attempts to pass a scenario on malignant hyperthermia, which is a severe reaction to certain drugs used for anesthesia. Without prompt treatment, complications can be fatal. Schroder is a registered nurse in Bothwell's Post-Anesthesia Care Unit and was impressed with her VR experience.
"It's really high-tech and reminded me of a video game," she said. "It puts the 'sim' in simulation but is pretty life-like. Malignant hyperthermia is rare but it is serious so this was a great opportunity to practice something we don't see often so we can be prepared if it does happen. Overall, I was super impressed."
Perez said VR training checks a lot of boxes when it comes to providing ongoing training for nursing staff and supporting their professional development.
"It's interactive, which is more interesting and learner-centric than training that takes place on a computer or in a classroom with a static mannequin," she said. "And it's mobile; the equipment is simply a laptop, headset and controllers and can be carried to wherever nursing staff are, and sessions are anywhere from five to 30 minutes. I think it also shows staff we are invested in giving them state-of-the-art learning opportunities to provide the best care to patients."
Both Weisenburger and Perez are veteran nurses and agreed the focus of health care has changed over their careers.
"Patients in the hospital these days are sicker and have more complex illnesses," Weisenburger said. "That complexity increases the expectations for nurses, too. Whatever we can do to stay up with technology and support them with where they're at in their nurse learning, we're going to do it."
Ashley Schroder, left, a registered nurse in Bothwell's Post-Anesthesia Care Unit, works through a VR simulation on malignant hyperthermia while Kim Perez, Clinical Education director and Megan Elwood, Nursing Education educator watch.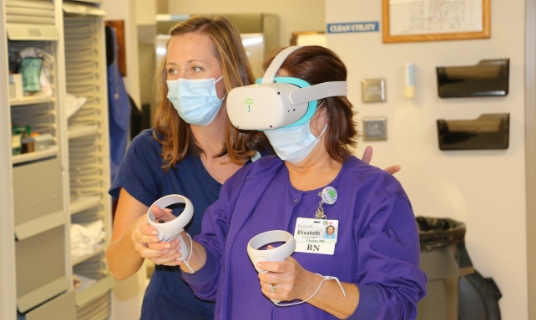 Laura Weisenburger, Nursing Education educator/recruiter, assists Liz Hackett, Same Day Surgery/PACU charge nurse, on how to use the VR training system.
New Bassinet a 'Game Changer' for Moms
Skin-to-skin contact, breastfeeding and dedicated nursing care are all parts of bonding and better home preparation for moms who deliver their babies at Bothwell. This is accomplished by rooming-in care where the baby stays with mom in a postpartum room after delivery.
Women's Health and Newborn Care Director Hollie Dubroc elected to request funds from the foundation to purchase a new baby bassinet to improve the rooming-in care experience.
"The time has come to replace the current bassinets," Dubroc said. "We are very excited about the new bassinet model, which is specifically designed with flexibility to keep newborns closer to mom."
Dubroc requested to purchase one HALO BassiNest, which is the only hospital bassinet designed to safely keep baby closer to mom more than ever before. The 360-degree swivel motion is ideal for all mothers but especially those recovering from a C-section or those with physical disabilities. The bassinet can swing over the hospital bed, which makes it easier to see and tend the baby while in bed reducing the likelihood of accidental falls or drops.
"The more the bassinet moves, the less a mom has to," Dubroc said. "It really promotes mother-centered and safe rooming-in care and allows moms the most and best access to baby throughout their stay with us."
Graham Payne, Lauren Thiel-Payne's son, was the first baby to use Bothwell's new HALO BassiNest bassinet, a 360-degree swivel baby sleeper that is designed to keep baby safe and closer to mom in a postpartum room. Photo by Mallard Photography
The bassinet has already arrived and Dubroc hopes to order four more at a cost of about $3,600 each if donors are identified. A community member who wished to remain anonymous has already donated funds to purchase a bassinet in honor of a long-time Bothwell employee. Other people who would like to donate toward the purchase of the additional bassinets should contact the foundation.